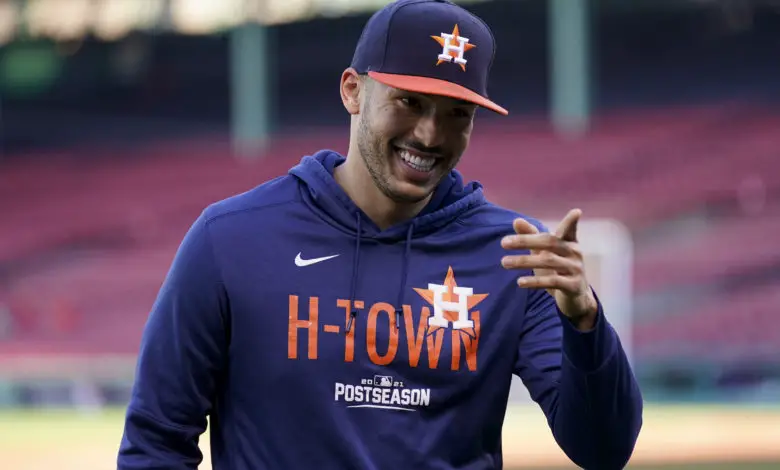 Cubs Reportedly Have Money and Desire to Sign Carlos Correa, Hesitant to Offer 10 Years
Several reports linked Carlos Correa to the Cubs prior to the lockout, whether it was their general interest in top shortstops or the rumor that they'd spoken with his agent. That interest is both serious and mutual, according to 670 The Score's Bruce Levine, who reported Tuesday that the length of the deal might be the only thing standing in the way.
"The Cubs have the money to sign Correa," a source told Levine. "However, the only hesitation is about the length of the deal – not the annual average value of the contract."
While everyone knows it's going to take a lot in terms of both money and years to sign this winter's biggest free agent, the Cubs would "rather not go 10 years." That seems like a pretty big sticking point, even if Jed Hoyer really does have room in the budget for what would have to be a monster average annual value for a player who likely wants to eclipse the record $341 million deal Francisco Lindor inked with the Mets.
That means you're looking at around $35 million annually over a decade, or maybe as little as $30 million if a team was willing to push to something like $360 million over 12 years. The Cubs, however, are apparently more comfortable with a higher AAV over a shorter period.
Would Correa be willing to sign for $200 million over five years in the hopes that he could still secure another $150 million or more as a 32-year-old when that deal expires? Maybe, but there might also be several more teams in the market for him at that shorter length, not to mention he's probably prioritizing the security of a long-term deal in terms of time and total payday.
There's also the possibility that Correa, a William Morris Endeavor client, would be willing to sign a shorter deal with a "swellopt" feature Scott Boras more or less invented a few years ago. Jake Arrieta had a version of a swellopt with the Phillies in which he was guaranteed $75 million over three years ($25M AAV) with a club option for two additional years at $20 million apiece ($23M AAV).
The Phils' choice not to exercise the option meant Arrieta could have opted out after two years, but no way was he going to do that. Therein lies the source of the term Boras coined.
"For the club, if the player performs well, the club can opt in (contract swells)," Boras told The Athletic's Ken Rosenthal. "For the player, if the club doesn't opt in, the player has the choice to continue with the contract (swell) or opt out. It's a swell option for both."
Such a deal for Correa would obviously have to be much larger in terms of both the base and the option(s), but what if we went with that original five-year, $200 million contract and added a club option for five more years at $160 million? Correa might want a no-trade clause in the first half since he would not be able to achieve 10/5 rights until it's over, and there would have to be a deadline like Arrieta's deal in which he could opt out should the club not pick up the second half.
The biggest issue with the concept as I laid it out is that Correa would still not be guaranteed nearly as much as he's aiming for even if he can end up making as much or more in the end if things all go well. And again, that means there are probably more teams willing and able to bid up the AAV.
I think we also have to consider the possibility that this is a case of the Cubs strategically leaking information that allows them to shrug their shoulders and say "At least we tried" should Correa sign elsewhere. They are signaling a willingness to spend at a time when they can't even if they really wanted to, plus they're doing a little fan service in the wake of everyone getting frothed up by Correa responding to carolers outside of Wrigley.
That isn't to say the interest isn't legit, just that it's entirely possible the Cubs may know full well that they're not going to stretch to the level Correa is going to need. It's also possible they're putting this out there as a bit of gamesmanship while teams maneuver behind the scenes.
All we can really say for certain is that this does match up with what Jed Hoyer has been saying the whole time about the team's preference for spending. But since the lockout is going to prevent anything meaningful from happening for quite some time yet, we'll have to keep relying on little leaks like this to provide what little baseball news we're going to get.