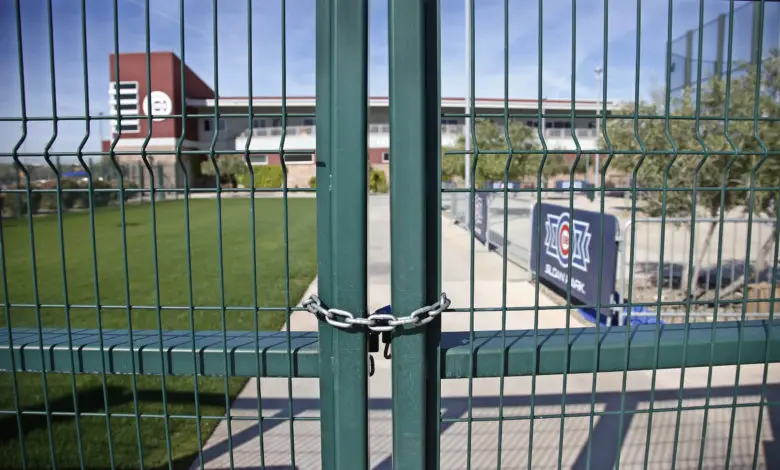 Latest Meeting of 15 Minutes Yields Little Progress, Expanded Playoff Format May Be Set (Or Not)
The sixth meeting between representatives from Major League Baseball and the players union lasted all of 15 minutes, during which time it appears the two sides did little more than greet one another. There was, however, an additional 20-minute meeting between lead negotiators Dan Halem (MLB) and Bruce Meyer (MLBPA), so maybe that's a good sign.
At the heart of Thursday's brief summit was the bonus pool for pre-arbitration players, which the union has proposed to increase after having previously ratcheted their asks down. The latest offer is for a $115 million pool, which seems like moving in the wrong direction until you realize it's tied to what would be a larger group of players.
As Evan Drellich and others explained following the meeting, the union has shifted its position on arbitration eligibility, putting more players in line for the bonus pool. Though the system would not be the same, it's akin to Super 2 designations in the past. The only problem is that the union wants 80% of players — down from 100% in previous offers — with two-plus years of service to be Super 2 and the league has said it won't push past the current 22% mark.
The players proposed that the prearbitration bonus pool now be $115 million (accounting for their proposal now having fewer players going to arbitration). Previous proposal was $100 million. Pool would now be distributed to 150 players rather than 30.

— Evan Drellich (@EvanDrellich) February 17, 2022
This is one of the two major topics remaining, with the competitive balance tax threshold and penalties standing as the final boss. As with the dual nature of the minimum pay/bonus pool issue, the CBT will come down to both where the level is set and what penalties are assessed for exceeding it.
There have been some agreements on other important matters, like the approval of the DH for both leagues and the removal of draft-pick compensation for signing free agents. Both of those are wins for the players, though neither is as big as what we just covered. Another hot-button is playoff expansion, which both sides have been amenable to previously.
While adding more teams to the postseason gives players a chance to earn more money, the league collects a disproportionate percentage of the take from broadcast rights. That said, there may — emphasis important — be an agreement in place to implement a funky format that will see seven teams from each league in the playoffs. So you've got three division winners and four wild cards, in case that wasn't clear.
According to Craig Carton of WFAN in New York, whose credibility I can't speak to, the team with the best record in each league will get a bye to the division series and the top remaining division winner will pick its opponent from among the wild cards. Then the third division winner will pick its opponent and the final two teams will face each other. My assumption is that the division-winner series will then face off while the wild card-only series will face the No. 1 seed.
MLB playoff format is set fans gonna love it – 7 playoff teams per league – Team with best record gets bye and goes to Div Series – Top remaining Div Winner picks opponent from the 4 wild card teams and plays best of three all games at home – Then the 3rd Div winner does the same

— Craig Carton (@craigcartonlive) February 17, 2022
Maybe there are folks out there who really dig this, but it strikes me as being contrived. I think the biggest issue I have is with the idea of picking opponents, which feels like something designed purely for the sake of creating bulletin-board material. Wait, I'm being told it's about producing what is known in the business as drama.
As it turns out, there's probably no such agreement on a playoff format, as MLBPA communications director Chris Dahl tweeted Thursday. Given the importance of playoff revenue to the league, format changes are a big bargaining chip for the union. That said, it's entirely likely we will see a change from what has been in place with just two wild cards.
This tweet is inaccurate. There is no such agreement. https://t.co/cByKa7MCmO

— Chris Dahl (@Chris_Dahl) February 17, 2022
The league now needs to put together a counter and set up the next meeting, which had better come soon. MLB had set a February 28 deadline in order to be able to start the season on time and that's now just a week and a half away. Maybe it's finally time for the owners to present a good-faith offer.