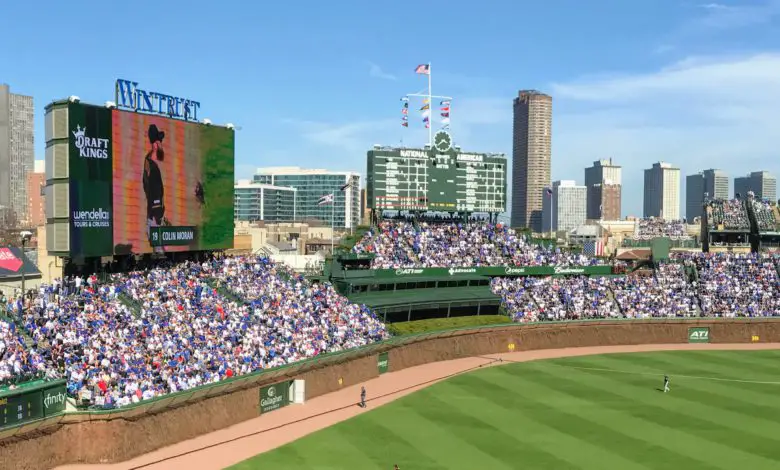 The Rundown: Seeking Refuge in Wrigley Bleachers, Crow-Armstrong Garnering Accolades, MLB Scoring Down Dramatically
"Feel so restless I am, beat my head against a pole. Try to knock some sense down in my bones. And even though they don't show, the scars aren't so old. And when they go, they let you know." – Johnny Thunders, You Can't Put Your Arms Around a Memory
No offense to the Cubs (literally and figuratively), but the team's three stars in last night's 4-3 loss to the White Sox were Patrick Wisdom, who belted his fifth home run of the season, Nico Hoerner, who also had a home run, and @BleacherJeff.
Patrick Wisdom with the good offense.@BleacherJeff with some brilliant defense. 👏 pic.twitter.com/ld3aw2R80K

— Chicago Cubs (@Cubs) May 5, 2022
I grew up a big fan of the post-Leo Durocher 1970s Cubs teams, the ones that made the Bleacher Bums as big a part of the storyline as the organization's annual June swoon. Looking back, it's almost incredible that announcers Jack Brickhouse and Lou Boudreau managed to put a positive spin on baseball played at Wrigley Field. Even the neighborhood didn't have today's charm back then, though there were a lot better food choices in the area.
A trip to a Cubs game in the mid-70s meant navigating the buses on Belmont past the tattoo parlors, burrito joints, and pawn shops that have now been replaced by gourmet coffee chains and locally-sourced apothecaries. The Bums that gathered in the bleachers way back when were a surly bunch, too. Most were blue-collar workers who found convenient ways to ditch work for a $5 ticket, a $1 hot dog, and as many frosty Old Styles as their tolerances allowed, and then some.
If a major league baseball equivalent to CBGB existed, it would be Wrigley Field's bleachers. Actors Joe Mantegna, Dennis Franz, Dennis Farina, and George Wendt were the Bleacher Bums counterparts to the Ramones, Johnny Thunder, Iggy Pop, Blondie, and David Byrne. I admit that's a bit of rosy retrospection, but in those days there were always two events: the game itself, and whatever was going on in the left and right field stands.
We tend to look back on that era with enchanted sentimentality. For fans who have followed this team before the likes of Ryne Sandberg, Rick Sutcliffe, Steve Trout, Keith Moreland, and Bob Dernier made it fashionable to do so, the putridness of those '70s squads taught us to be calloused to lousy baseball. We complain a lot more now, something fueled by social media, boutique prescription drugs, and ever-shortening attention spans, and sadly so. As die-hards we no longer allow bitter losses strung mercilessly together to toughen us up for the inevitable good times ahead.
Inevitable? Perhaps eventual is a better word. My point is, and without leaning on the lessons our Richard Nixon-era parents taught us about handling defeat, watching a bad baseball team lose three of every five games doesn't have to be a display in tap beer-induced despair.
When the Cubs suck, and boy do they ever, the party in the bleachers never stops. And whether you're watching Mick Kelleher or Nick Madrigal struggle at the plate, or whether you're lamenting the relief appearances of Paul Reuschel or Locke St. John, it's all irrelevant. Frustrating times can still provide a plethora of smiles and good vibes, as Bleacher Jeff, a throwback in his own right, showed all of us last night.
Nostalgia is a very real thing that makes life seem more meaningful while making the thought of death simultaneously less frightening. I mean that in an allegorical sense, of course, and though I generally dislike "remember when" there are occasions when it puts current events into a better perspective. Watching the consistent struggles of players like Barry Foote, George Mitterwald, and Steve Ontiveros made us appreciate the rare instances when they played above their limited ceilings. That's where we are today, and that should be your short-term expectations of this year's Cubs team.
Cubs News & Notes
Put it in the books!@Cubs prospects Pete Crow-Armstrong (No. 6) and Reginald Preciado (No. 11) played major roles in the 24-run offensive barrage by the @Pelicanbaseball: https://t.co/gBNyK1qjOz pic.twitter.com/UYZGa7d2di

— MLB Pipeline (@MLBPipeline) May 5, 2022
Odds & Sods
I read an interesting statistic this morning. Mel Ott hit 511 career home runs despite being a diminutive 5-9, 170 lbs. Too bad he's not here to mentor Hoerner and Madrigal.
Climbing the Ladder
"Lived in a brownstone, lived in a ghetto, I've lived all over this town." – Talking Heads, Life During Wartime
I would have never guessed that one month into the season Wisdom would be the least worrisome offensive player on this team. The strikeout rate is obnoxiously bad, and, here's an eye-opener: If you subtracted every-at bat in which the third baseman has struck out, he'd be 19-for-43 (.442)
Chicago's K-rate and BA are getting dangerously close to last year. Without any power to compensate, the team will score a lot fewer runs this year.
Games Played: 24
Total Plate Appearances: 886
Total Strikeouts: 214
Strikeout Rate: 24.15%
Team Batting Average: .240
How About That!
An umpire may have baited Diamondbacks starter Madison Bumgarner into a first-inning ejection last night.
Marcell Ozuna struck out looking at three straight balls and social media acted accordingly.
For the first time in Major League Baseball history, all four New York and L.A. teams are leading their respective divisions.
The Reds are off to the third-worst start in MLB history.
Guardians rookie sensation Steven Kwan walked it off against the Padres last night in a fitting tribute to Star Wars Day.
At 4.04 average runs per game, MLB scoring is at its lowest point since 1981.
Data sets on the drag of MLB baseballs are now available at Baseball Savant.
In 11 home games this season, the A's have drawn fewer than 10,000 fans seven times and fewer than 5,000 fans on four occasions.
Wednesday's Three Stars
Rowdy Tellez – The guy who looks like he'd be right at home in Wrigley's left-field bleachers led the Brewers to an 18-4 win over the 3-21 Reds with two homers and eight RBI.
Daniel Vogelbach – The burly DH is quietly slashing .292/.350/.864 after getting two knocks, including a home run, with three RBI as the Pirates inched ahead of the Cubs in the NL Central with a 7-2 win over the Tigers.
Trey Mancini – The Orioles DH never hit the ball out of the infield but managed to go 3-for-3 with a walk and two runs scored.
Extra Innings
It is tough to embrace the suck at times.
The Cubs (73.0) are one of 10 MLB teams currently projected for 73 or fewer wins on FanGraphs (and the Tigers are projected for 73.6).

Keep in mind that rosters of such teams usually just get worse after in-season trades (as sellers).

There's a lot of bad out there right now.

— Matt Clapp (@TheBlogfines) May 5, 2022
They Said It
"Our strength's going to be bat-to-ball skills, putting balls in play. I don't think we're built to slug maybe as we were a little bit in the past. How we started off, taking walks and commanding the zone and making pitchers work, once you see that start happening, the other team's going to be like, 'Hey, we've got to get ahead of these guys. Be aggressive.' We've seen that." – David Ross
"It's easy to get caught in the minutiae of it [Suzuki's slump]. At the end of the year, I think that his numbers are going to be where they're supposed to be. For him, it's more about staying steady in his process of how he prepares because [there are] going to be great stretches and [there are] not going to be." – Brown
"[Crow-Armstrong] might have the biggest exit velocity jump of anyone we have in camp. He's just way more physical. He's healthy. That's going to make a big difference." – Justin Stone, Cubs director of hitting.
Thursday Walk-Up Song
Dirty Boulevard by Lou Reed