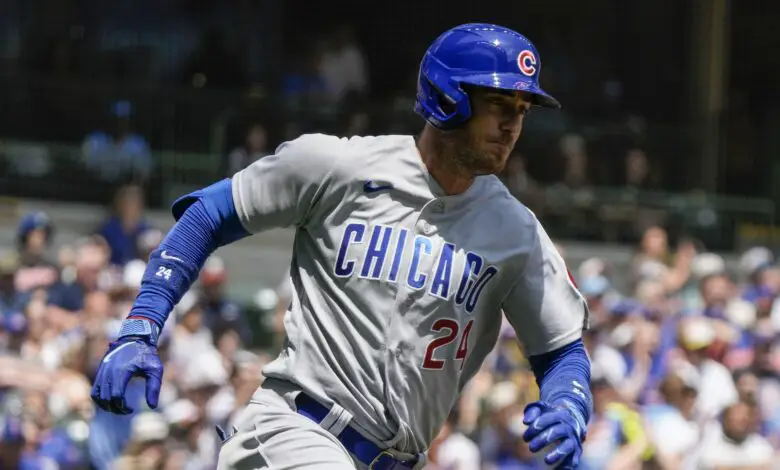 The Rundown: Start Clock Now on Hoyer & Ross, Bellinger & Stroman Understand Deadline Implications, Combined No-No for South Bend
"The lights go out and I can't be saved. Tides that I tried to swim against have brought me down upon my knees." – Coldplay, Clocks
I've started the clock on Jed Hoyer and David Ross after yesterday's frustrating 6-5 loss to the Brewers. Hoyer has mastered mediocrity and Ross is the perfect manager if your ultimate goal is to tread water just to avoid drowning. The Cubs are 185-225 since Hoyer replaced Theo Epstein and they're 219-251 under Ross. In the meantime, small-budget teams like the Orioles, Reds, and Rays are much closer to championship baseball.
I applaud what Hoyer has done with the farm system but as Caleb Kilian, Brennen Davis, and Matt Mervis have shown, nothing is guaranteed and growing pains are likely. Pete Crow-Armstrong is Chicago's best prospect but the system is bereft of any potential superstars beyond the speedy center fielder. Yes, there are a lot of players to like, but the very best ones are still a few years away.
It's time to go in another direction if the Cubs fail to make the playoffs, and I believe Tom Ricketts has purposely put the heavy expectations of this season squarely on Hoyer's shoulders. I am positive the measured statements he makes about the roster and deadline are not coincidental. The team's chairman knows an overhaul is in order if they have to sell again at the deadline. Chicago is too big a market to force fans to deal with mediocre baseball for a seventh straight season.
Oh yeah, a regime change will take a lot of the heat off Ricketts, too, at least temporarily. If anything, Hoyer is just too uninspiring for a fan base dying for confident leadership.
Put another way, if the Cubs truly intend to be players for Shohei Ohtani this winter, it's probably not going to happen if Hoyer is calling the shots.
Cubs News & Notes
Odds & Sods
Elly De La Cruz is the real deal, and as Evan pointed out, the rookie shortstop is a must-see player.
Elly De La Cruz has been in the big leagues for exactly one month. The Reds are 21-6. From 5 under to 10 over.
Fun stat if you're a fan: The Reds are 18-17 on the road when trailing in games this season. They are the only team in MLB to have a winning record in that situation.

— Jesse Rogers (@JesseRogersESPN) July 7, 2023
Central Intelligence
Climbing the Ladder
"Take the way home that leads back to Sullivan Street. I'm just another rider burned to the ground." – Counting Crows, Sullivan Street
The Cubs should have won yesterday's game despite striking out 16 times against Freddy Peralta and a handful of relievers. Chicago was 1-for-9 with runners in scoring position, including six punchouts.
After a quick start, it's safe to say Jared Young is not the answer at first base and also that Patrick Wisdom is definitely not the answer at third. Perhaps Hoyer will focus on adding strength at the corners this winter if Mervis can't turn it around. Maybe Haydn McGeary and James Triantos are the answers, but that's counting on a little too much right now. It's hard to believe Frank Schwindel might have actually outplayed all of Chicago's first base options were he still with the team.
Games Played: 86
Record: 40-46 (.465)
Total Plate Appearances: 3,300
Total Strikeouts: 792
Strikeout Rate: 23.80%
Team Batting Average: .248
Runs Scored: 397
Runs Allowed: 374
Chances of Making the Playoffs: 27.2%,  1.2% to win the World Series
How About That!
Ohtani is among 10 individuals, including De La Cruz, Corey Seager, Luis Arraez, and Corbin Carroll, who have been baseball's best players this season.
Arraez had three hits yesterday, raising his batting average to .388.
Milwaukee's win put them two games behind the Reds and the two teams will meet this weekend.
The Cardinals have two intriguing trade pieces in Jack Flaherty and Jordan Montgomery.
MLB insider John Heyman named his first-half MVPs in a piece for the NY Post.
Defensive numbers are up across baseball, and some experts believe the pitch clock is one of the reasons.
White Sox analyst Steve Stone has you covered if you do not know the difference between a sinker and a splitter.
Thursday's Three Stars
Francisco Lindor – Baseball's most overpaid shortstop was 5-for-5 with a home run, two triples, and an RBI so he at least earned his Mets paycheck for one night.
Gunnar Henderson – The Baltimore shortstop was 4-for-7 with two home runs and five RBI as the Orioles crushed the Yankees 14-1.
Eugenio Suárez – The third baseman paced the Mariners to a 5-1 win over the Astros with two taters and three RBI.
Extra Innings
This is a no-brainer.
Vin Scully is voted the No. 1 sportscaster of the 20th century by members of the American Sportscasters Association, July 6, 2000. pic.twitter.com/IxSlwJtqTS

— Baseball In Pics (@baseballinpix) July 7, 2023
Friday Morning Six-Pack
They Said It
"I definitely know what is possible. But I like being here. I'm focusing on helping this team win while I am here. Hopefully, we can get on a little roll and stay together. We have a really good group here. I still have confidence in the whole group." – Bellinger
"I love our team. I feel like things haven't gone our way, to be honest with you, at all. But the commitment and the drive and the attention to detail [are] there. It's just one of those things where we haven't really clicked. We haven't gotten on a roll. Hopefully, we catch fire. Hopefully, one win after another, it starts to kind of roll and we have clumps of big winning streaks." – Stroman
Friday Walk-Up Song
How long will the Eagles continue to tour? Nobody knows except Henley.