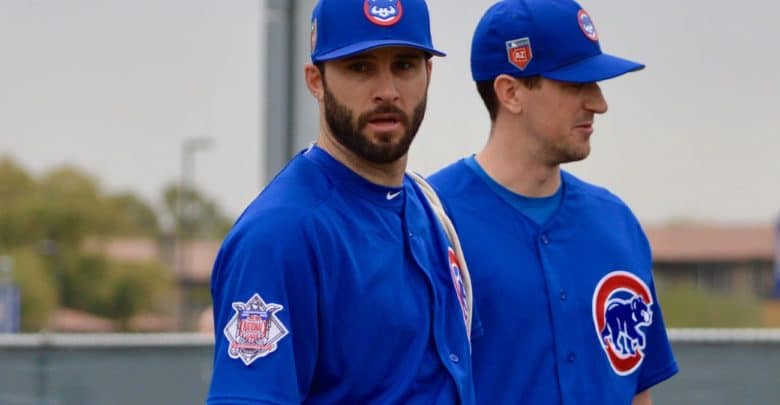 Brandon Morrow Shut Down for Season
Shortly after ESPN's Jesse Rogers warned not to "hold you're [sic] breathe [sic]" on Brandon Morrow, the Cubs officially announced that the closer would be shut down for the remainder of the season. Morrow had been progressing through the prescribed steps of his rehab process, but the pain in his right elbow never went away.
https://twitter.com/carriemuskat/status/1042193475209355266?s=21
In fact, it actually got worse as he stepped up his throwing program. That had been a fear from the start and it became obvious in the wake of a simulated start this weekend that a return was not possible. Morrow's injury has been described as a bone bruise or a stress reaction, which is the same malady that cost Yu Darvish his season and led to him undergoing an arthroscopic procedure to clean his elbow up.
It was highly questionable in light of the Darvish situation that Morrow would be able to come back, but the Cubs allowed their closer to determine his own ability to pitch throug pain. In the end, it was just far too obvious that returning this season was not an option.
Theo: "It was time to do the right thing and let this thing heal."

— Gordon Wittenmyer (@GDubMLB) September 18, 2018
"Every time he pitched, it got worse," Theo Epstein said Tuesday. "It was time to do the right thing and let this thing heal."
The Cubs weren't planning on Morrow returning to dominate the 9th inning right away anyway, so this confirmation serves only to solidify their plans for the bullpen. Joe Maddon will continue to go with a committee at the end of games for now, but Pedro Strop is confident that he'll be able to return ahead of the playoffs.
In the meantime, the best option is to have the starter go 8 2/3 and then bring in a reliever to throw one pitch for the final out. Seemed to work well Monday night.