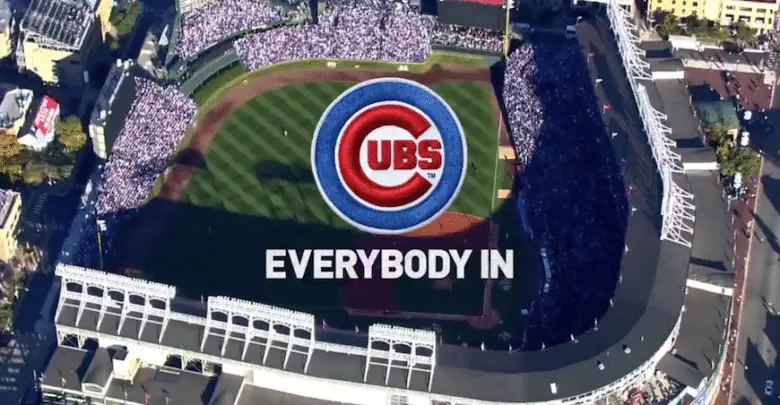 Cubs Say 'Much Larger' Revenue from Marquee Network 'Available Immediately Next Year' (Updated)
The Cubs' lack of desire to flex their considerable financial muscle has been a constant topic of conversation since late last October, with the team repeating ad nauseam that the money simple isn't there. But Crane Kenney, the club's president of business operations, was singing a very different tune when he spoke with members of the media on Monday about the progress on the forthcoming Marquee Network.
For specifics on the new broadcast venture, including studio location, potential programming, and even personnel choices, you need to go check out Patrick Mooney's piece over at The Athletic ($). Even though I maintain a small personal beef with Chicago arm of the subscription site, they put out a good product and Mooney's got a wealth of info that I can't readily reuse in good conscience.
So for the purposes of this piece, we're going to stick just to the very basics of what Marquee means to the product on the field. As you may recall, the Cubs have previously said that it might take a few years for additional revenue from the network to exceed what is currently coming in via existing broadcast arrangements.
While it's still true that it may take some time for variable revenue from things like carriage fees and advertising rights to ramp up, the Cubs will earn more in fixed rights fees than they do now.
"Those additional resources are available immediately next year," Kenney said. "The team has a rights fee significantly higher than what they're receiving today, so that's from the start. Then there's the question on the network side of what profits are enjoyed, if any, (so) they could also be used for investment in the team or other assets around the ballpark or other interests of the (Ricketts) family.
"That's probably a little further down the road. But from the team's perspective, the rights agreement that they've got in place with (Marquee) will give them more resources next year than they had today [emphasis mine]."
So that's pretty cool. Exactly how much more money the Cubs will have remains to be seen, if it's ever really seen at all, but this is more transparent public discourse than we've gotten to this point. And based on what Mooney shared about further clarification, it sounds as though the Cubs are very bullish on a much bigger rev stream.
Kenney subsequently followed up with The Athletic to clarify that there are two components to any media deal on this scale: A fixed rights fee and the variable revenues that come from cable distribution: "Going forward, the fixed piece is going to be much larger than it is today. The variable piece is unknown, because these networks really are driven by the distribution that they have, so if we're fully distributed, we'll have nice profits."
If we apply a little deductive reasoning here, it appears as though the Cubs will have about $69 million more for 2020 than they had this year. Wait, scratch that, no way was Kenney throwing "nice" in there for that reason. The fact that he's so openly describing this, though, means we're talking about some significant increases to the bottom line.
A lot of that may come from assurances Sinclair has already secured for carriage on regional television providers. More likely stems from the media giant finalizing the purchase of nearly two dozen FOX regional sports networks spun off by Disney recently. You can imagine how there was perhaps a hold on some of the finer points what with a $10 billion transaction in the offing.
That seismic shift in the sports-broadcast landscape is what held up the Cubs' official announcement of Sinclair as their partner on Marquee, even though the reports had been out for a while. With the season underway and the Cubs playing well after their initial stumbles, it makes sense to work on strengthening the Marquee brand in preparation for a February launch.
Again, I'll advise you to check out Mooney's piece for even more details on the nuts and bolts of the new network, then stay tuned to CI for more on specific revenue info.
---
Update: Immediately after publishing this piece, the Cubs sent out a media release that Michael McCarthy, has been named general manager of Marquee Sports Network. That had long been presumed, as McCarthy had been hired by the Cubs months ago to oversee the transition from their current broadcast arrangement to their own property.
From the release:
Marquee Sports Network today announced Michael McCarthy as general manager. As a key member of the network's senior leadership team, McCarthy will be responsible for driving the success of Marquee Sports Network set to launch in February 2020 in partnership with Sinclair Broadcast Group, Inc. (Nasdaq: SBGI)
McCarthy served as president of MSG Network where he was responsible for revenue and content across all platforms, winning over 75 Emmy Awards and helping launch the careers of nationally known broadcasters, such as Mike Breen, Gus Johnson and Doris Burke. McCarthy also served as vice chairman and CEO of the St. Louis Blues and was the COO of the Milwaukee Bucks. Since August of 2018, McCarthy served as a consultant for the Chicago Cubs in the evaluation and formation of the Marquee Sports Network launch strategy.
"We've had the pleasure of getting to know Mike and his proven ability to drive results over the past several months at Marquee," said Crane Kenney, president of business operations for the Chicago Cubs. "With his combined sports and media background, Mike is the right person to bring our network online and deliver unprecedented Cubs coverage for our fans."
"I'm thrilled to be a part of the launch of the first independent regional sports network for the Chicago Cubs," said McCarthy. "The recent transformation of this iconic brand is incredibly impressive and the next big effort to better serve Cubs fans is the launch of Marquee. For years, I watched the Cubs become a nationally recognized brand. For that reason, I'm honored and intensely motivated by the confidence the Ricketts family, Sinclair and the Cubs have placed in me to add to the incredible broadcasting experience enjoyed by fans for the past 70 years."