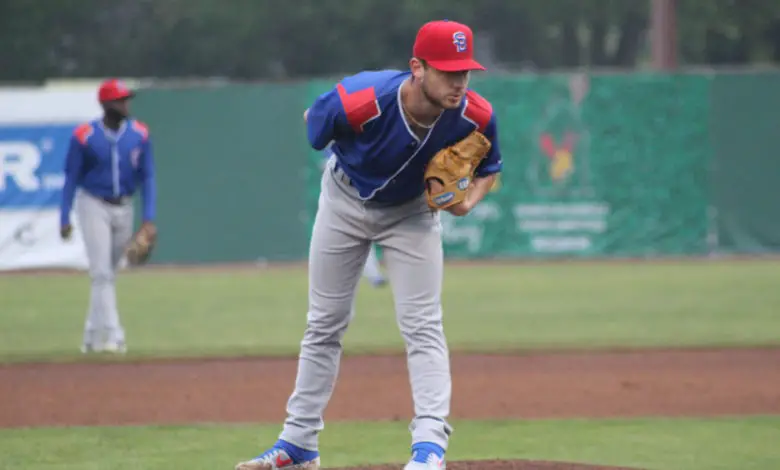 Chicago Cubs Weekly Farm Report (8/2/21): Incumbent Prospects Show Out While New Acquisitions Get Assigned
Fine, I'll admit that the minor league performances for each team and a few select players are probably the least of your concern right about now. From the MiLB perspective, you are probably much more worried about the prospects the Cubs got back for the Ryan Tepera deal, or the Anthony Rizzo trade, or the Javy Baez exchange, or the Kris Bryant sell-off, or even the Jake Marisnick deal. And while at CI we have a breakdown of each of the ten total deadline prospects, there actually is real-life on-field baseball to discuss, believe it or not.
News in the System
Kohl Franklin, arguably the best pitching prospect in the system, appears to be getting closer to a full-season affiliate return. He is throwing off the mound down in Arizona and he will be as big of an infusion of talent into the system as any trade acquisition.

Look for the Cubs to start taking advantage of the new Development List in the minor leagues. It is a way for the team to limit innings on starting pitchers in the system as they come off a year of zero minor league games and work on specific skill sets in the pitch lab or hitting lab.

I have to throw in a shameless plug here as we have officially moved into a world where a look toward the future and Cubs prospects is the most important thing on plenty of Cubs fans' minds. We have worked really hard to put together quality MiLB content at

CI

over the years and whether it is Evan Altman's

interviews with players

, Todd Johnson's

features on the hottest prospects

, Greg Zumach's

draft coverage

, or myself and Jimmy Nelligan recording the

Growing Cubs Podcast

each week, I think you guys should be covered when it comes to identifying the next best thing in Chicago.
Triple-A Iowa Cubs
Iowa split a six-game set with the Louisville Bats this week, even though they averaged just 2.3 runs per game. The pitching was phenomenal, led by a couple of arms that have even been lights-out in Chicago this year.

Justin Steele made yet another start this week and

will soon find himself in the Chicago rotation

. The lefty threw 72 pitches in his five innings of work, giving up no runs on just four hits without walking anyone and sitting down five via the strikeout.

Keegan Thompson is following the same path as Steele from the bullpen to the rotation and made his first start down in Iowa. He went 47 pitches in three innings and didn't allow a run or a hit. He walked just one and struck out four batters.

Greg Deichmann, part of the return for Andrew Chafin, made his debut in Iowa this week. The 26-year-old recorded a double and hit leadoff during his games with the team.

Ian Miller was the best hitter on the team this week, logging a .357 batting average and striking out just once in 15 plate appearances. He is up to a .283 average this season.

The I-Cubs will polish off the end of a two-week homestand with a series against Indy, a team they went 4-2 against last month.
Double-A Tennessee Smokies
It was a week of solid performances by the Smokies this week, going 4-2 and lifting their record this season to 33-40.

Although he gave up three runs in his six-inning start, Cam Sanders sat down nine batters by strikeout, and his season K% creeps even closer to that 30% mark (29.1%).

Stop me if you have heard this before: Ethan Roberts and Brandon Hughes shoved out of the bullpen. Roberts went 2.1 innings, one hit, no runs, no walks, and three strikeouts. Hughes went four innings, two hits, no runs, no walks, and four strikeouts.

On the season, Roberts now rocks a 1.97 ERA, 0.78 WHIP, .139 opponent average, 36.3% K-rate, and 7.3% BB-rate. Hughes is sitting at a 2.14 ERA, 1.19 WHIP, .214 opponent average, 31.5% K-rate, and 8.4% BB-rate.

Your system-wide stolen base leader finally got the promotion up to Tennessee and Delvin Zinn doubled twice in his second start with the team on Sunday.

Nelson Maldonado recorded nine more hits this week and OPS'd 1.002 while Darius Hill had five hits, five walks, and OPS'd 1.171.

Levi Jordan and his small frame cranked out another two homers this week. He is up to five total on the season and has an above-average OPS+ of 106 at the Double-A level.

The Smokies hit the road for a series against the Montgomery Biscuits, a team that has always been one of my favorite names in all of minor league baseball. The two teams haven't played each other since the first series of the year and the series will actually include a scheduled doubleheader on Wednesday to make up for a lost game in that opening series.
High-A South Bend Cubs
South Bend lit up the scoreboard this week, scoring double-digits twice. Unfortunately, they still finished the series with a 1-5 record against a division leading Quad Cities squad. They are 33-44 this season.

With the offense being the story this week, there wasn't much to write home about from the pitching staff. But I will point out that it was another week of the good version of Ryan Jensen. He made one start of five innings and only one earned run. He racked up ten strikeouts, a career-high, and it took just 84 pitches to do so. If you look past his 4.97 ERA this year, you would be hard-pressed to find another bad statistic that he has put up. He has been electric.

Alexander Canario, half of the Kris Bryant trade return, made his Cubs debut on Sunday and batted in the two-hole. He recorded two hits in five at-bats.

Bryce Ball (Joc Pederson return) had his best week as a part of this system. He slashed .357/.500/.643 with a bomb to center and a double to right-center.

Now that DJ Artis has been allowed to get settled in at one affiliate, he has just continued to look better and better. This week he put up a .423 OBP in 26 plate appearances.

Jake Slaughter joined the rare ten-hit week squad in this series. He doubled twice and tripled and put up six RBI.

South Bend plays at home against Peoria for the first time this year and the team might see quite a few new players on their roster with all of the trade deadline players and some draft picks added into the fold.
Low-A Myrtle Beach Pelicans
The Pelicans went an even 3-3 this week, but I'm telling you, they look a lot better than their 36-42 record indicates. They are a fun team and might get even more entertaining as the season wears on.

DJ Herz was really good again (shocker there), going five innings and giving up just one run on a homer, two total hits and he struck out nine without walking anyone at all. His season strikeout rate is still above 40%. Ho-Hum.

Danis Correa might be the best performer this year that you haven't heard of. He is making a strong case to be promoted up to South Bend after going four strong one-hit innings without walking a batter and striking out eight. That brings his season ERA down to 2.05 and his season K% up to 39.6%.

More Jordan Nwogu. Two more doubles and two more bombs and you could argue that he is your Cubs system second-half MVP.

Kevin Made is looking so much more comfortable at the dish lately. He put together the impressive ten-hit week, batting .500 and hitting two doubles and two triples.

Myrtle Beach wraps up their two-week road trip with a series against the Columbia Fireflies. The Birds are 10-8 against the Flies this year.