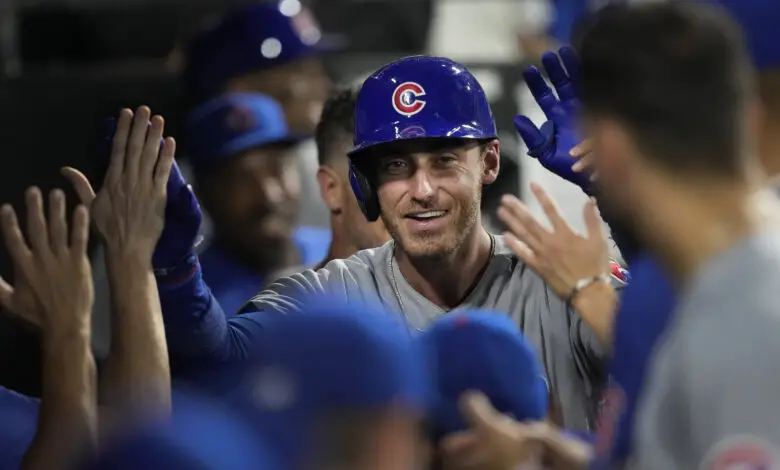 Jed Hoyer Can Barely Contain Himself While Discussing Cody Bellinger
Have you ever gone through a really tough week — or maybe longer — at work or home and when you finally hit your long-awaited day of reprieve, all you can do is smile? That's kinda how Jed Hoyer seemed Tuesday evening, like a kid who'd just gotten off the bus on Friday afternoon. This season hasn't gone the way he'd have liked, but the Cubs cobbled together their best stretch of play right before the deadline and allowed him to make good on his desire to buy.
While they mainly stood pat outside the acquisition of Jeimer Candelario, much of Hoyer's relief may have come from the idea that he's in a better position to improve the club further this winter. And just like he did with the Candy Man, it's entirely possible some of that improvement will involve bringing someone back. Or, more accurately, keeping them around.
"Belli knows how we feel about him, that's for sure," Hoyer said with a broad grin that betrayed more than a little coyness. "We've loved having him here and…I don't comment on negotiations in-season, but I'd just say that: He knows how we feel about him. He's been wonderful and I think it's been a really good fit."
"Belli knows how we feel about him."

Jed Hoyer on Cody Bellinger. pic.twitter.com/fkk5XnQoFj

— Marquee Sports Network (@WatchMarquee) August 2, 2023
If I didn't know any better, I'd say the Cubs might be more heavily engaged in conversations with Bellinger than anyone who believes agent Scott Boras is the antichrist would be willing to believe. There's a strong sense among the Facebook crowd that Boras won't allow his clients to sign extensions, which simply isn't the case. It's absolutely his job to seek the best deal on behalf of the players he represents, but that also means putting them in the best position to flourish.
Now, is it entirely possible the Cubs continue to lavish Bellinger with praise and affection only to watch him sign with the Yankees for more money? Sure, that's just how it works sometimes when you're talking nine-figure contracts. But that won't be because Boras is some sort of boogeyman with a vendetta against the Cubs, it'll be because Bellinger wants to get a bigger bag elsewhere. And hey, maybe the Cubs end up offering the best deal AND being the best fit.
It's pretty clear Bellinger is enjoying himself this season, though that's admittedly a little difficult to judge from a guy who perpetually looks like he just exhaled a massive bong rip. He's on his way to his second-best season ever behind his MVP campaign in 2019 and he has re-emerged as the type of transcendent hitter who can carry a lineup by himself for long stretches.
Bellinger has 3.1 fWAR on the season, which is really solid for a guy who missed about a month with a knee injury. But he's been unstoppable over the last month, putting up an MLB-leading 2.0 fWAR with a .406/.436/.708 slash since July 1. He gives the Cubs a player other teams fear, and now he's got a much stronger lineup around him to ensure he can't just be pitched around.
I don't think either side truly believed back in December that things were going to work out nearly as well as they have, and it's possible neither believes this will continue. It's equally possible, even more so, that Bellinger agrees with Hoyer that this fit is too good to let it just be a one-year thing. Even if the Cubs are preparing for Pete Crow-Armstrong's arrival and an offseason pursuit of Shohei Ohtani, keeping Bellinger around would not interfere with either.
If anything, finding a way to extend or re-sign Bellinger would provide insurance against any rookie hiccups while proving to Ohtani that the Cubs intend to win. And make no mistake about it, winning is more important to the best player on the planet than money. Ohtani is going to get paid handsomely no matter what, he just wants to make sure he's more than a mascot in the process.
It might all be a pipe dream, but I'd say Bellinger is probably pretty familiar with those.