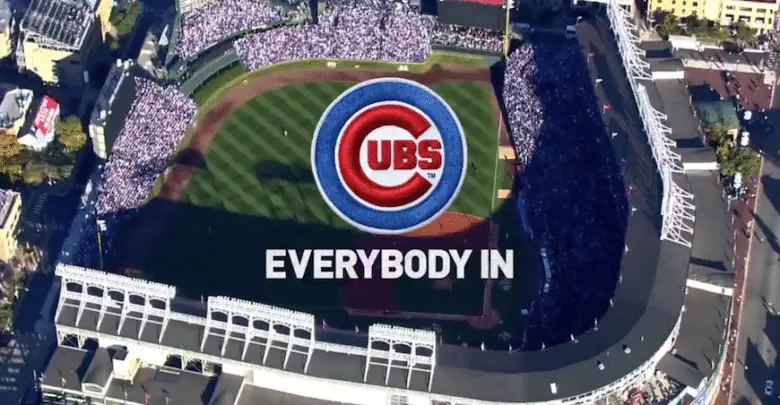 Report: Cubs Pitching Marquee Network to Providers at $4 Carriage Fee
There's been a lot of speculation about the Cubs' Marquee Sports Network since it was first reported that the team would be partnering with Sinclair Broadcast Group on the new venture. Operations to prep for the February 2020 launch are now a full go, with Michael McCarthy named GM of the network and pitches to cable and satellite providers reportedly underway.
That had been assumed earlier in the week when Crane Kenney, Cubs president of business operations, spoke transparently about how the network would produce "much larger" revenue for the club starting next year. Those new dollars will come in the form of fixed rights fees being paid to the Cubs by the new network, though there is potential for a great deal more through carriage fees paid by providers.
One initial prediction pegged the Cubs' initial ask for Marquee at $6, but a recent report from Robert Channick of the Chicago Tribune says they're looking for a more reasonable $4 fee. That indicates an attempt to get the broadest possible distribution across the Cubs' sizable broadcast territory.
We've discussed this topic at great length here at Cubs Insider, both in terms of how it will affect fans' ability to watch games and what it means for the Cubs' bottom line, so this won't be a lengthy tutorial. However, I want to dig into the topic just a little further because it's an important aspect of the whole process.
All channels in a given cable package have a specific carriage fee, which is paid by the provider to the channel for the privilege of carrying that content. The fee is then passed along to each subscriber to that package. So your cable bill goes up and the network, Marquee in this case, gets that fee for every single person who has access, whether that person wants it or not.
That's a very important distinction for two reasons. First, this isn't an on-demand deal where you just call up Comcast and tell them you'll pay extra to get Marquee. Second, a high carriage fee could mean the network being placed at a higher-tier package or not being carried at all. The Cubs know they've got a huge fanbase and they can't afford to make the same mistake the Dodgers did by overpricing the product.
Fans in Chicago are losing free games on WGN and ABC-7 and those beyond the Chicagoland area have dealt with blackouts and a patchwork broadcast schedule for the last five years. The last thing the Cubs need is to further restrict access to their game broadcasts. A $4 carriage fee should get them into basic packages across the territory, including areas in Iowa, Michigan, and Indiana that have been underserved for too long.
Of course, fans who already have access to NBC Sports Chicago may feel more of a pinch due to the Cubs' impending split. Because the current network will continue to operate as a partnership between the White Sox, Bulls, and Blackhawks, Marquee will add to what are already costly carriage fees.
Fans in Chicagoland currently pay around $9 per month for NBCSC, with the cost dropping closer to $6 for those in markets along the fringes of the Cubs' territorial map. The addition of Marquee, then, could mean a 50-70% price increase for access to the same four teams.
A partnership between the Cubs and Sinclair Broadcast Group, Marquee is already pitching cable and satellite providers to insert the new regional sports network into the channel lineup. That could automatically add $4 to the nearly $9 monthly regional sports fee paid by Chicago-area subscribers, sources close to the team said.
That said, it's entirely possible that NBCSC will decrease its ask next year. The Cubs have long been the network's tentpole, so their departure significantly reduces clout with carriers. Rather than get into a pissing match and have carriers choose between the dueling RSNs, and because carriage fees are negotiated annually, it's likely NBCSC will be less expensive next year.
The Cubs believe Marquee should cost subscribers more next season than NBC Sports Chicago, sources said.

 

The argument? Since ending a centurylong drought with their 2016 World Series win, the Cubs have been getting better TV ratings than the other three teams combined.
The Cubs have not yet commented on the veracity of the report about their carriage fees, but they have stated in the past that they want Marquee to have as broad a reach as possible. That includes improved access to streaming by customers throughout the Midwest, an important topic for subscribers and cord-cutters alike. Those outside what is considered the local market can still access via MLB.tv or Extra Innings.
Stay tuned for more on this topic and please feel free to hit me up with questions in the comments below or on Twitter.