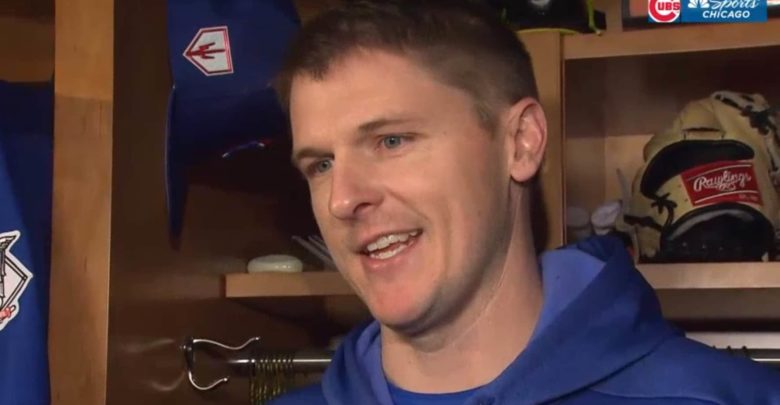 Brad Brach's Disparate Fastball, Exit Velocity Numbers Producing Alarming Results
Brad Brach has been a source of intrigue and consternation since the time he agreed to a contract with the Cubs back in January. It took three weeks to finalize the deal, which had to be reworked due to a mono diagnosis that cost Brach some guaranteed money, after which the righty displayed significantly reduced velocity numbers during spring training.
But Brach explained that he always takes time to warm up and the early results bore that out. His velocity began to trend up toward the end of the Cubs' time in Mesa and was actually ahead of his pace from previous seasons for a while. The results, however, say that something is very much amiss with Brach's game.
Though he's keeping the ball in the yard with a 0.36 HR/9 that would easily be the highest of his career if it holds, Brach is allowing baserunners at an alarming clip. Between 29 hits and 22 walks in 25.1 innings pitched, the reliever's unsightly 2.01 WHIP has pushed him into last-resort territory. Now, in fairness, Brach has done much better against right-handed hitters this season, posting a 1.36 WHIP and holding them to a .649 wOBA.
Only trouble is, the Cubs don't have much use for a ROOGY whose performance seems to be heading in the wrong direction. Remember the whole four-seam velocity thing from earlier? I hope you do, it was only like three paragraphs ago. Anyway, the velo seems to have plateaued and may even be heading downward.
The chart immediately below displays Brach's average four-seam velo by season, while the next shows it on a per-game level from this season. Take a look and we'll meet back up after to discuss.
The first thing we need to note here is that these results could shift dramatically by the end of the season. Or they could at least be a little different, since he's not suddenly going to start throwing 97 or something. However, Brach did experience a velo spike in the second half of last season due to a slight mechanical change that had him throwing more like he was during his All-Star days in Baltimore.
He's going to need to pull something out of his hat here soon, though, because velocity isn't the only thing that's down. Whether it's a result of not throwing as hard or having a slightly different grip or whatever, the fastball doesn't have quite as much life as it has in the past. Take a look at these next two charts, which show Brach's spin rate and average movement both horizontally and vertically.
What we're seeing is a straighter fastball that simply isn't getting the kind of "ride" that causes hitters to swing under it for misses. That has led to fewer swinging strikes, more hard contact, and more line drives than ever before in Brach's career. And while he's managed to avoid behind stung by the longball, batters are not having a tough time squaring him up.
The chart above may look really out of whack based on scale, but that difference of around 2 mph means an extra 18-20 points in expected batting average and wOBA. It's impossible to sit here and say that Brach's performance this season hinges solely on his four-seam velocity, especially since the slider isn't doing well either. But if the pitch that makes up 60% of his offerings isn't effective, his secondaries can't do much damage.
It doesn't help that the Cubs don't have much choice other than to let Brach work through his struggles in the hopes that he regains some of that magic from Baltimore. Or even his second half with Atlanta following a trade there last season. Craig Kimbrel being activated should help, since that will push Brach into lower-leverage situations pretty much every time out.
That had better help, anyway, since the Cubs can't afford to keep running Brach out there if the disparate velocity trends displayed above continue. Not with Dillon Maples sitting at Iowa and Adbert Alzolay looking like a potential lights-out option for later in the season. And with the Cubs hunting for additional relief help on the trade market, there's going to be one less bullpen spot open in the next month or so.
There are still a lot of moving parts here, but if Brach wants to keep his job he's going to need to find a way to put the "r" back in his first name.